As you all know, Chloe requested Pink & Glitter as her color palette... Not wanting to walk into a Barbie room myself everyday, I broke up the pink with a lot of white, a touch of blue & the perfect compliment was her gorgeous
yellow bedding
.
Crane & Canopy
was gracious enough to send Chloe one of their latest designs from their
Bright Collection
.
The Montgomery Yellow
was just what this sweet room needed. She was so excited to have a duvet cover like mommy & daddy that we had to open it & use it in her old room until her new room was ready! Breaking her into a little luxury at a young age is not a problem in my book.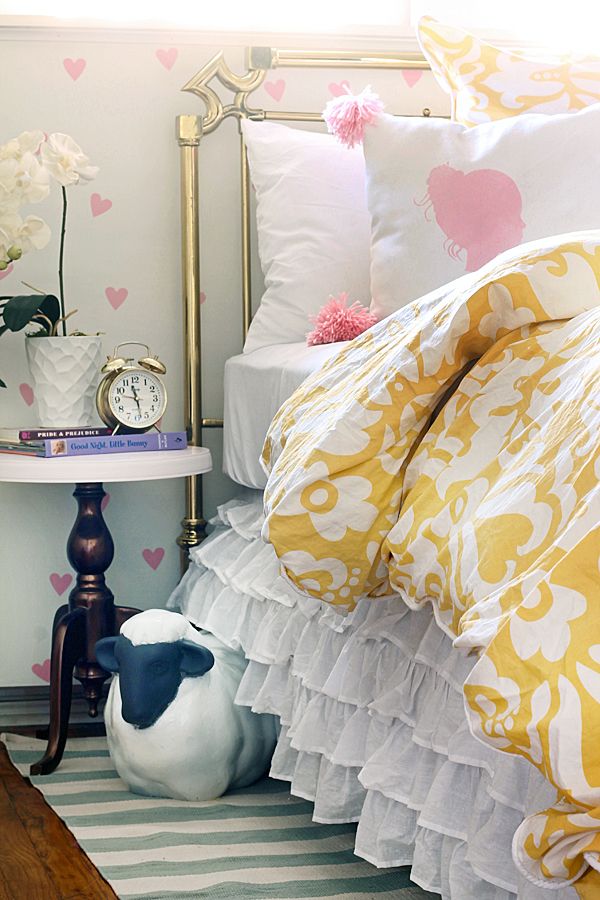 Her
sheep is from Baaaa-llard Designs
.... sorry, I had too. We found this sweet sheep at the Ballard Outlet we have locally. Chloe spotted it & said "can I have a sheep in my room?!?" and when I saw it was on clearance for $17.99 I said "Absolutely!".
The nightstands were little copper tables I bought ages ago at Homegoods. They have floated around our home ever since. This one had found itself on our deck for a season & the top got a little worn. I fixed that with a little primer & her Fancy Pink paint. We have two, and I was planning on using them both as her nightstands as they were one more thing that just seemed to fit. But Santa brought her a very special present this past Christmas that also seemed to slide right into her new space.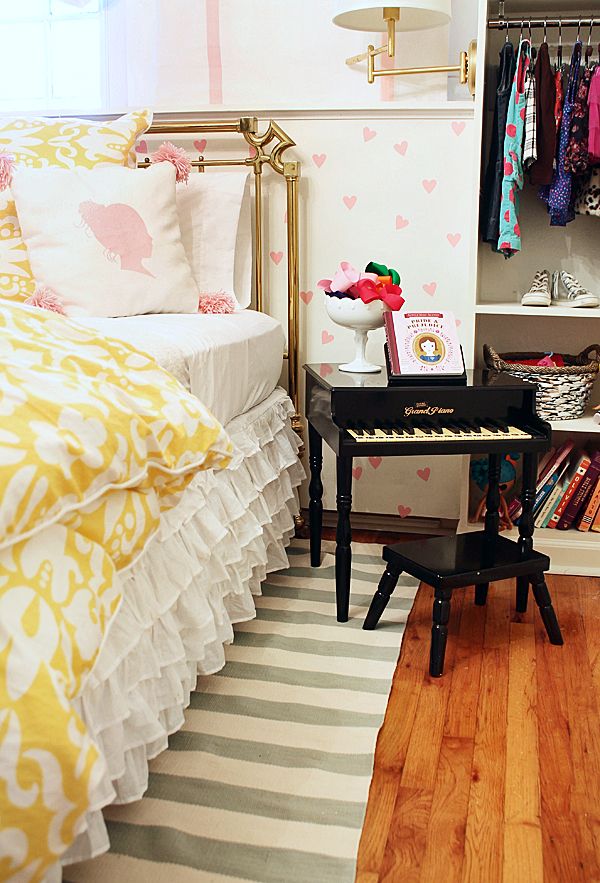 Her baby Grand Piano (that I may have helped Santa find at Goodwill last year!) plays double duty as a nightstand and a music maker. She also uses the stool to help her get into the bed as it's a little taller than her last one.
On that note, I learned that you can buy a Low Profile Boxspring that is half the height of a typical boxspring. Which was a huge help with her vintage bed. Her bed frame was a few inches taller than a standard frame, so I can't imagine her bed sitting 4" taller than it is now!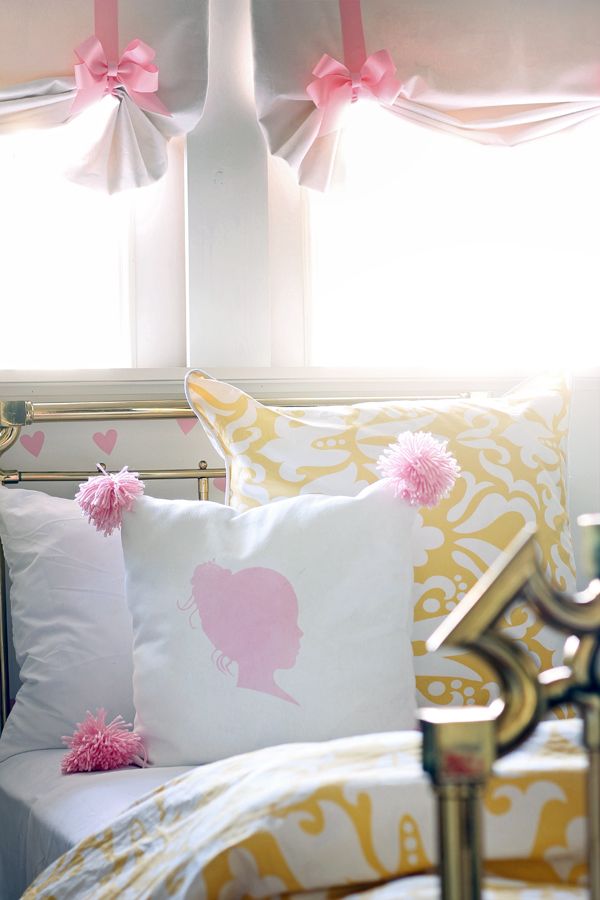 I made her Silhouette Pillow with some scrap fabric, paint & yarn. I used my new Silhouette Machine to cut out the stencil on vinyl, laid it on the fabric & used Martha Stewart Glitter Craft Paint. (It's glittery... trust me!) Than I made the
pom poms just like on this pillow
.
I also used the Silhouette Machine to create the pink hearts on her "wall". I printed them out on their vinyl & Chloe & I just stuck them all over her wall. She loves stickers!!! So this was a great way to have her help with her room. I love how they aren't "perfect" & how proud she is that she helped.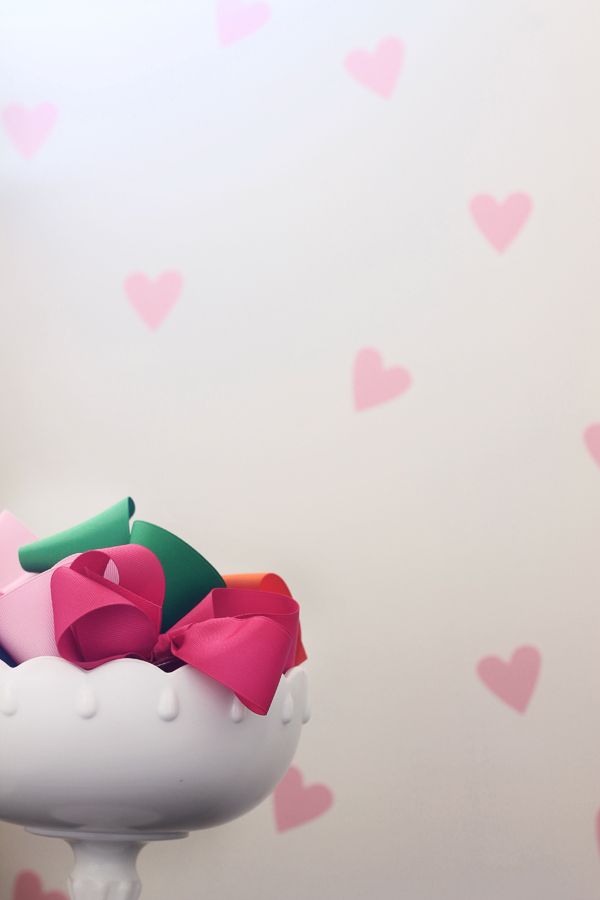 Her two little window treatments were created on a whim. The windows were too short for a roman shade or standard blinds, so I created my own shades using some leftover white canvas, a light blocking drapery panel I got on clearance & some pink grosgrain ribbon.
Basically they are just square lined panels with two strips of ribbon going down. I attached a little piece of velcro where they needed to be lifted to.
When it's time to open the shades I simply gather them quickly & attach the bow that is dangling on the backside at the exact length needed.
This was an "off the seat of my pants" idea that I came up with. I am not a seamstress & do not play one on TV. I see a problem & figure out a way to fix it... sometimes it works.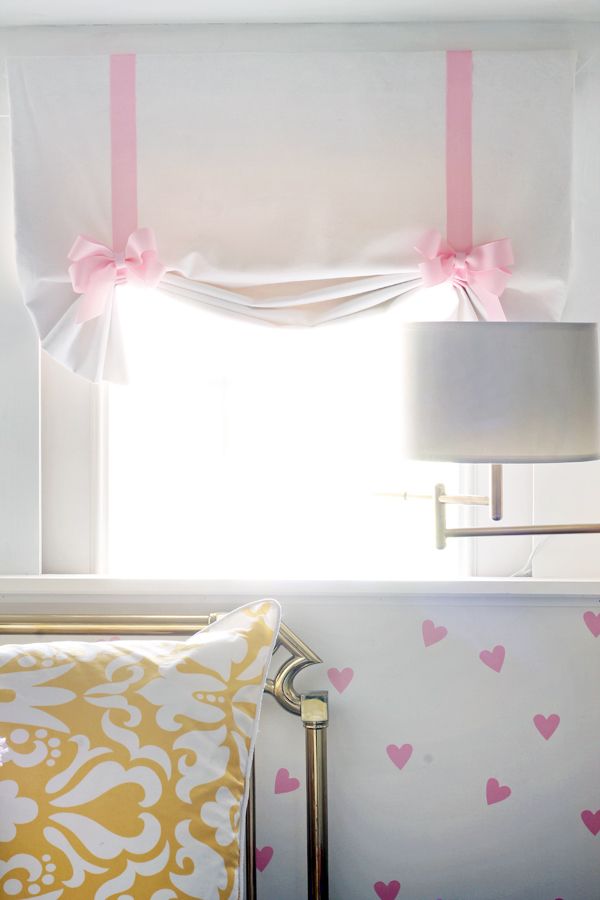 Tomorrow we'll talk accessories, toys & dollhouse. Thanks again for all the love this week!
x o - Kristin
**Crane & Canopy did provide the Duvet & Sham for us to review. The opinions are those of mine & my daughter.**